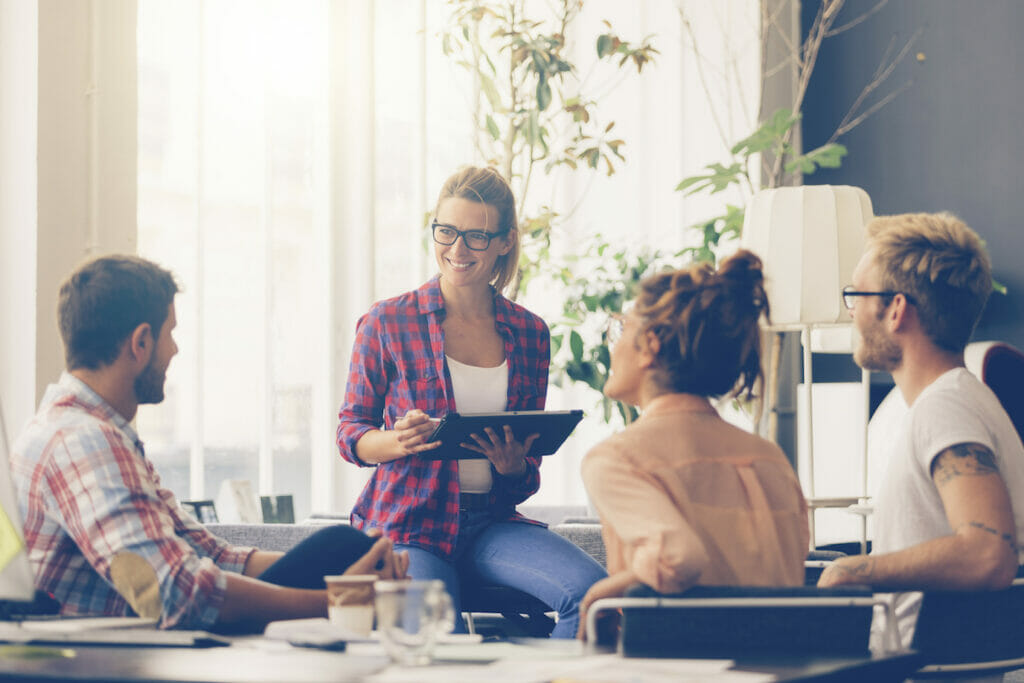 3 People Management Strategies to Scale Your High Growth Company
MAR 02, 2020
High growth companies are doing more than growing—they're adapting.
They're shifting from scrappy startup to established brand. It's a shift that is driven by disruption and change, infused by fresh investment.
It's a shift that presents some serious HR challenges for leaders, including: developing processes where they have never existed before, transitioning from general roles to more specialized departments, staying agile as the pace of growth fluctuates, and more.
There is a lot written about the challenges companies face when scaling and the mistakes to avoid. However, very little is shared about the exciting people management opportunities waiting to be seized by high growth companies.
Here are the top three people management actions some of our high growth clients have taken to not only grow, but to also grow better.
3 People Management Opportunities to Seize when Scaling
1. Hire right.
Startups are notoriously tough on employee stamina. Some people are cut out for it—they survive on fumes, taking on as many roles as are thrown their way, and are excited to create something big. Then it's time to scale and the burden on employees grows even bigger.
In growth mode, many leaders will assume it's time to embark on a hiring frenzy. We caution companies to think strategically about their hiring plans, though. Not only is a rapid hiring spree taxing on your recruitment resources, onboarding, culture, and management, but it also builds a team matched to today's needs—not necessarily your needs six months or one year from now.
Zynga, the online game creator, found themselves facing the very real consequences of scaling too quickly when in 2015 they announced they were laying off one-fifth of their workforce. As demand for their games grew, they simultaneously grew their staff without considering that the surge in revenue may only be temporary.
Recruitment is a challenge, but it's also an incredible opportunity for high growth companies.
When you're shifting from startup to growth, you're also pivoting from an all-hands-on-deck-model to one that is built around specialized functions. It's the time to be choosy about who you are hiring. Look at the skills you already have represented on your team, and build out recruitment plans to fill the gaps.
That's just what our client, IDB Bank, did. They knew many of their scaling needs were temporary, while others required a long-term solution. So they created an agile model that mixed full-time employees with consultants. Some members of their project-based teams transition to employees, while others transition out. It's a model that offers IDB maximum flexibility, while respecting the strengths and working preferences of their team.
"Working in a transformative environment always sounds sexy and exciting, but it's also really tough and changes can happen on a dime," says Amanda Drozer, Vice President and head of change management and HR transformation at IDB. "It takes not only a mature professional to work within this type of environment, but also someone who has the endurance to work in ambiguity. These are unique characteristics, and hiring slow, or taking the time to work temp to perm helps both us and the employee determine if this is the right fit for the long-term."
2. Cultivate a magnetic culture
Some startups are seeping with a unique and even notorious culture—like in the early days of Google where founders Sergei Brin and Larry Page were known to bounce around the office on kid toys. Google is the quintessential example of company culture flowing out of the founders' personalities.
When you're scaling, you have the opportunity to make a choice about your company's culture. Do you want to nurture the current climate, or do you need to make a deliberate shift to cultivate one that better represents your company's vision and values?
It's time to define your culture, codify it, and protect it. Dharmesh Shah, founder of HubSpot explains the shift, "In the early days, it's OK to rely on the behavior of the founders and early team to set the culture. That works great. The problem with this model is that as you start to grow, there's a fair amount lost in translation. Leading by example is necessary, but not sufficient."
Be intentional about your restrictions and freedoms around flexible scheduling, time off to volunteer, personal cell phone use at the office, and other behaviors that set the tone for who you are as a company.
A magnetic culture is critical for any company to retain and attract top talent, but it's especially important for companies as they scale. Your culture represents your employer brand, and it powers your recruitment and retention efforts.
New investors, new customers, and new staff mean a lot of change.
For our client, Comic Relief USA, that change also included a new CEO. When Alison Moore joined the team in September of 2019, she was laser-focused on understanding the employee experience. The team is engaged—and Alison wants to keep them that way. "I firmly believe culture is the cornerstone of an organization's growth, strength, and long-term success— and it starts with leadership. Even in a purpose-focused environment, building great culture doesn't happen on its own. It takes a clear intention, commitment, and hard work, but it will pay off ten-fold."
3. Equip your team to grow with you
You're growing. Help your people grow, too.
Just because a high growth company generally requires more specific skills and departmental structure, does not mean you have to abandon your early bootstrappers.
For example, now is your chance to reinvest in the bookkeeper who was single-handedly managing all finance and HR functions in your early days. This is the person who knows your history, your customers, and even your investors. As you're building out a more functional finance department, invest in upskilling this loyal team member to fit within the new structure.
Not only will you save your company an average of $4,000 per person you retain, you're reinforcing a culture that cares about its people.
Coinbase, creator of the first bitcoin wallet, has been implementing robust learning and development initiatives since their startup days. According to Nathalie McGrath, Director of People, Coinbase has borrowed from Facebook's coaching circles model: leverage peer-based leadership in small group settings. The scaling company also introduced a code school on Friday and continuously explores partnerships with training companies like Udemy to offer on-demand, personalized training opportunities to staff.
Upskilling certainly isn't going to address all of your needs when scaling. As former CEO of LiveOpps and former COO of Ebay, Maynard Webb explains, "Part of our job as a leader is to make sure everybody has opportunities to achieve their potential and enhance their potential. But you also have to execute and not have things break."
Some people won't fit into your new structure, and that's ok—as long as you're investing in the people who are able to grow with you.
Redesigning the Future of Work